Books and CDs
Click here to order books and CDs
Children love to take in new experiences through their many senses, and the learning process can be all the more effective the more senses they use. The Colourstrings method uses parallel activity of the senses to promote learning and aid understanding with the help of colourful teaching material. With a foundation built on Kodaly principles, the Colourstrings method aims to develop the child's capacity for internal listening so that the child learns to visualise the notes being heard and correspondingly auralise the notation seen on the page. The method is ideally suited for starting at preschool age and can be used effectively throughout the early school years.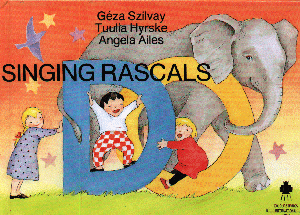 Singing comes naturally to young children: while playing, bathing, rocking or in the playground, they hum their own tunes with a few notes and a simple, easy rhythm. A child assimilates new ideas as a whole but it is learning through a combination of senses that gives the best results.
The pictures in the Singing Rascals books are closely associated with the words of the songs and arouse the children's interest. The material, both in the books and on the CDs, is organised starting from two note melodies and proceeding gradually to five or seven note melodies. They are sung or played in different keys [movable DO].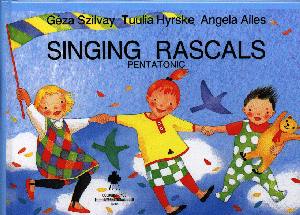 The primary purpose of the CD's is to encourage the child to sing, and sing well. Each song is therefore presented in different ways - with words, in solfa, sung alone or in groups. Sound effects between the songs make the repeated presentation easier and more fun.
An additional goal is that of educating children to become active in their listening to music of value, and to nuture a lifelong love of music. At the end of each sequence, the song is heard as a string orchestra performance of high artistic quality which leads the child naturally from singing to listening.
Click here to order books and CDs
For further information on our books and CD's please contact us at:
Colourstrings International Ltd, Book & CD Dept,
18 Elm Tree Avenue, Esher, Surrey, KT10 8JG, UK
Tel: +44 (0)20 8546 0114
Email: sales@colourstringsbooks.com
Website: www.colourstringsbooks.com